Goal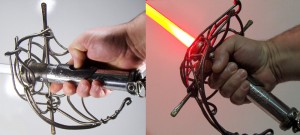 My goal is to make the science fiction/fantasy world more real to those of us who enjoy it, by creating fantasy sabers that are as close to real as possible. Many of my props are made to be field stripped and reassembled. And just as in real-world swords over the ages, I make props that have artistry and ergonomics in mind.
Philosophy behind the work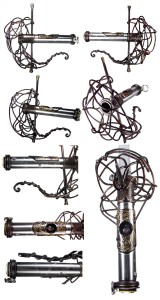 Being a filmmaker, I am especially aware of the needs a director and prop master have. I have made props for over twenty of my own film/videos, and have saber props for numerous clients around the globe in need of something special and durable for their fan films and sci-fi/fantasy projects. My hero version hilts are made of the same quality as those in my personal collection. Each prop, no matter what the final cost, is made as if it were going in my own collection or for my own film. Producing realistic, high-quality props is the most important thing for me. I want you to be happy with what you have, and know that you are the only one in the world with a saber like the one you've commissioned me to do. So, if you want something made especially for you; something unique and purposefully created with you in mind, as well as something that is made to work, then you've come to the right place.
Why should anyone settle for something that someone else owns? Why wear something that is mass produced, when you don't have to? Why settle for something that looks like an aluminum flashlight?
Quality sci-fi saber art should look realistic, feel comfortable to use, and be able to handle the rigors of hard. The truth is, the product photos I have on this site don't do the actual objects justice. My customers tell me that all the time, and I know it's true because I handle and make props all day long. Advanced Light hilts are extremely well-balanced, and tailored to the physical needs of the owner.
I primarily use carbon steel and stainless steel parts on my hilts, for example. That, along with the thick walled polycarbonate I use for the blades makes for an incredibly realistic feeling prop. And I weight the bodies especially to have great balance. This makes my work perfect for saber enthusiasts who want to use their props rather than have them just sitting on a shelf. I use extremely bright LEDs, which make the blades nice and bright, especially at night. And when my blades are photographed or filmed, you get a beautifully colored core of light, and afterglow around the set and actors. So, they're not just fun to use, they're also great for a filmmaker.
Please check out my gallery. It shows a small array of the work I've done. The props shown are of a wide variety of designs. Some are static props, others have moving or removable parts, and some light up and have sound effects in them. If you check out my Hilts page, you'll also find more pics and you can find out about each category of sabers I offer.
Thanks for checking out my site. I hope that I can make you something really cool.
-RJ
FAQ
Do you make any props from movies or books? Nope. And you shouldn't even ask me if I will make you anything that is already copyrighted by someone else. I only make original sci-fi / fantasy artwork. If you have a design of your own, I can make it into a reality. I will only do it by permission and agreement, and that particular design is yours. I won't reproduce it for anyone else. In fact, I don't even reproduce any of my creations. Once I make a hilt, I won't copy that design. If you happen to really like something you see on this site, you can let me know and I can build you something based off of that prop, but it will be a unique item when it's finished. When you get an Advanced Light prop, you are getting a piece of functional art.
What are your sabers made of? I use a variety of metals and plastics, however most parts are high grade steel. I use precision transfer machined steel parts, and the outer casings are steel, brass, aluminum, or natural antlers. Some steel parts are chemically blued, some parts are chromed, and I use a durable seal coat over the steel, along with a tough, textured polymer finishing paint. I also sometimes hand etch the chrome parts.
Can I wear your props on my sci-fi costume? Absolutely. My hilts come with belt attachments of your choice. I also have produced several hilts that use leather holsters. It should be noted that the hilts that are airbrushed should not be worn on a costume if you want the paint job to remain in pristine condition.
Do you make any custom props to order? Yes, in fact, custom work is my specialty. If you want a saber made just for you, then simply email me and we can discuss your saber ideas. Prices and delivery will vary depending upon your specifications. The basic price ranges for my hilts are listed in the Hilts section of this website. An exact price will depend upon the amount of detail, hand sculpting, the types of materials you would want used (i.e. semi-precious gems and crystals, animal antlers add to the cost of the hilts).
How do I order? If you see something that interests you in my Hilts section, I can make a version of that for you, or you can mix and match from the parts shown in the Order section. There you'll find pictures of the sorts of parts I make for my hilts. If you have a unique design of your own, I can work with you to make that design a reality. To commission a prop, please email me at riartist@advanced-light.com or advanced.light.weaponry@gmail.com I also have an eBay Store where I sell hilts that are ready to ship.
How long does it take for you to make a Custom Prop? A custom saber will take approximately nine months or so to make from start to finish. I don't mass produce any of my ALW work. This means that your hilt is made by hand, from scratch. I put a lot of pride into the quality of my work. You are getting a one of a kind piece of functional fine art. I make the highest quality collectables, so I do not rush the work. That means that a commissioned piece of work takes this long to make. The process is pretty straight forward. Once I am contacted by you, and I find out what you want, I will give you a quote for the final piece. Once payment or partial payment is made, your order is put into the work schedule. It's first come, first served is my policy. When I begin fabrication on your prop, I update you by email, and sometimes I have design questions along the way. I want to make sure you get something that totally fits your needs and expectations. I usually will provide you with pictures via email of the piece when its completed. Once the item is completed and full payment is made, I send the item out USPS. I will then email you with the tracking number.
About the Artist
I am a fine artist. I paint, sculpt, create ceramic art, smoking pipes, am a film maker, musician, and writer. I have an MFA, majoring in Film/Video Production, though I went into grad school as a painter. Much of my writing and film making is science fiction / fantasy based. I have been a fan of the genre since childhood. I make my sabers with the same passion as I do my other fine artwork. I consider the sabers I make to be pieces of artwork, and try my best to create unique items that can be enjoyed by collectors.